Wireless Door Alarm
The wireless door alarm has a number of applications, ranging from home security to allowing parents to keep tabs on their children.
A door alarm can be one of two kinds, either an ear-splitting noise maker or a silent signal sent to an auto dialer on a control panel.
A wireless door and entrance alert will alert you with a Wireless Chime of visitors. Wireless entry and door alarms are the ideal solution for being notified of visitors and customers. Simply mount the wireless transmitter above or beside your entry door and be alerted in another room or building of someone approaching.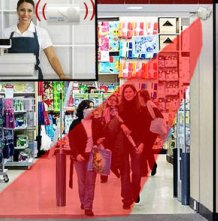 The door alarm warns you BEFORE your child goes out the door. If your child tries to open the door it will beep a loud warning for you to keep your child inside. In some cases the loud beeping will deter the child from opening the door. If you have children, mount the door alarm up high on the door where they can not reach it.
This alarm is also great for windows, cabinets, sliders, freezers. I suggest placing it high up on the door so children can not reach the on/off/chime switch.
Commercial door alarms give you peace of mind knowing wherever you are in your store, warehouse etc., if someone enters through the door you will be receive a wireless alert immediately!.
There are also door knob alarms that go off if someone touches the outside doorknob.
I recommended this type of alarm to many of my friends with small kids and to others for security as well. Protect your home and family with a simple security system that monitors a single entry to your home.
---
From Wireless Door Alarm to Home Alarm Systems

Back to Home Alarms to Alert You