Weather Radio at a Glance to Alert You to Extreme Conditions
The weather radio is extremely popular throughout all the states in the nation.
This particular weather forecast radio station actually consists of a network that includes a large number of stations that work to broadcast a continuous stream of events directly related to the weather throughout the nation. The network is unique in that it delivers only messages that are related to a specific area.
This is made possible through the many offices that are in place through the National Weather Service. Examples of messages that are emitted through these radio stations include forecast watches, significant weather alerts, warnings related to specific weather conditions present in a particular area, basic forecasts, marine warnings, and similar types of basic information as well as information on hazards.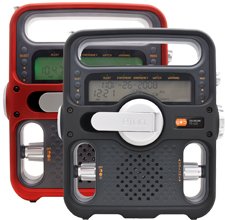 The weather forecast radio that is sponsored by NOAA is much different than weather information that is broadcasted on other radio stations. This type of radio focuses on all weather, all of the time. The broadcasts run twenty four hours a day, and on each and every single day of the year. For individuals seeking detailed, fully comprehensive information pertaining to weather conditions in their area, NOAA weather forecast radio is the ultimate "one stop source".
The radio works in close conjunction with the "EmergencyAlertSystem" which is part of the Federal Communication Commission. In addition to broadcasting basic information pertaining to the weather in a particular location, this network also offers emergency information that is essential to protecting the property and lives of the individuals that reside in the area in which an emergency is present. This is extremely beneficial for citizens throughout the United States.
There are many different types of emergencies that may be announced on NOAA's radio. While good portions are directly related to weather conditions such as severe winter storms, tornados and tropical cyclones, many are not related to the weather at all. Natural based disasters such as flash floods, earthquakes, and similar events may be broadcasted on this radio. Environmental based emergencies may also be broadcasted on this radio network.
If a particular chemical has been released in one form or another, for example, you can count on hearing about it through the radio. Furthermore, safety issues that concern the general public may also be highlighted on the weather forecast radio. Examples may include a missing child report through the AMBER Alert system or even disruptions in service to the official 911 network in a particular area.
The weather forecast radio is often referred to as the single "Voice of NOAA's National Weather Service". Individuals that wish to hear the broadcasts of this particular type of radio network must acquire a weather radio device in order to appropriately pick up the signal. However, if an emergency arises, weather radio will often interrupt basic radio programming that the public has access to in order to ensure that citizens are aware of the emergency.
The radio is known to come up with catchy phrases in order to alert the public of dangers and remind the appropriate course of action. An example includes the popular "Turn Around Don't Drown" when it comes to flooding. If you want to stay on top of weather conditions in your area, as well as potential emergencies, weather radio is the means of doing so.
Ask Your Weather Radio and Home Alarm Question HERE!
---
From Weather Radio to Natural Disaster

Back to Home Alarms to Alert You