Water Sensing Alarm - Who Needs Them?
A water sensing alarm can be one way to assure that your home stays safe from the ravages of a water leak.
Whole house water leak sensors or water sensing alarm systems can prevent a broad array of damages by actually sensing the water that is leaking and then shutting off the main water supply in some cases.
Your home can be damaged by water at any time and in nearly any room. Every room with perhaps the exception of your living room has access to water and can take water damage. Your kitchen offers water in multiple places such as the sink, the icemaker, the dishwasher and the garbage disposal.
Your bathroom offers things like the toilet and the tub and shower, while the laundry room offers your washer and other things that can also leak water. Your hot water tank or any of these other areas can be a source of leaking water that will do literally thousands of dollars of damage to your home before it is detected in some cases.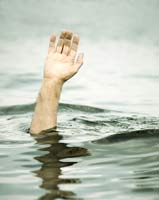 A water leak can do a great deal more damage than simply to soak your home. In many cases, the water is the impetus for the growth of mold and other things that may cost thousands to remove and to recover from.
A simply leaking hot water tank can spill several gallons of water per minute into your home. Consider the resultant damage if you're not home and that water may continue to leak for hours prior to your arrival. A water sensing alarm informs you of that leak and may attend to other functions as well.
Leak detection systems are available in several models. A passive leak detection system will alert you that a leak is taking place by sounding a tone, offering a flashing light or other method. This is viable if you're at home to attend to that immediately and correct the issue or shut off your water.
The active water leak monitoring system will actually generate an audible or visual alarm, but will also perform several functions designed to halt the outgoing flow of water into your home. Most use a sensor to determine if your system is leaking and if so, may in fact control just one portion of the system or may be able to completely shut off the whole water system to your home.
A whole house active water-sensing alarm has the capacity to shut off the water and to prevent the leak from continuing, giving you time to get home to fix the issue. In the process, it may save you several thousand dollars.
At a cost of about 150 dollars for the installation, or more depending on the unit that you buy, there is simply no real reason to avoid the installation.
The overall cost of the unit and installation may seem like an expense that you don't need. We've all heard that old saying, an ounce of prevention is worth a pound of cure.
The reality is that if the cost of your water sensing unit can save you several thousand dollars and a great deal of inconvenience, we'd all have to admit that it would certainly pay for itself in a very short time.
---
From Water Sensing Alarm to Home Alarm Systems

Back to Home Alarms to Alert You