Tornado Safety Tips
Have you ever paid attention to Tornado Safety Tips?
Tornadoes take place primarily in the Midwest, Middle Atlantic states, and southeastern portions of the United States. This area is known as tornado alley and can be prone to as many as several hundred tornadoes per year, with vast tornado outbreaks on any given day.
In some instances the most violent tornadoes take place here as well, due to the weather patterns that are prevalent here. Those areas are more prone to tornadoes but there is in fact not a single state which has not had a tornado at one point or another.
Those areas which are not prone to tornadoes can still produce them and when they do, the results can be frightening and devastating to your home and family. Making sure that we all know what to do in the event of a tornado is imperative, particularly if you live in an area which does not frequently have tornadoes, or is not listed as storm or weather ready areas.
Tornado safety tips advise you of what to do before a tornado arrives. Most areas which are prone to tornado formation offer tornado sirens or other methods of warning their residents that the weather isn't the best and they should seek shelter. In the case of a community that is not storm ready, there are not always good advanced warning systems in place.
Making sure that your family knows where to go and what to do in the event of a severe storm front is the first step. Making sure that you have adequate supplies in place to keep you going in the event of a severe storm is also an important part of staying safe.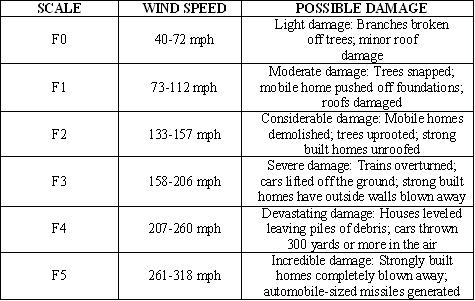 In many homes, a basement is not an option as a shelter area. In these cases, teaching your family what to seek out in the event that they hear a tornado or other severe weather coming is something that should be done prior to leaving them home alone at any point.
In a tornado situation, a weather siren will usually sound that gives you a warning that you have dangerous weather imminent. When you hear this siren, generally piercing and intermittent, you should tune to the weather channels to find out what the siren is telling you about the weather.
Tornado shelters are available in most communities even if they are not large ones. Find out when you move to a new area where the severe weather or storm shelter is located so that you know what you will need to do to access it safely in the event that you have to use it.
Your best bet for tornado safety will be a basement or below ground room. If you do not have a basement, an inner room without windows will be the safest place to be.
Ask Your Tornado Safety and Home Alarm Question HERE!
---
From Tornado Safety Tips to Child Safety Tips

Back to Home Alarms to Alert You