Sump Pump Alarm Overview
All
sump pump alarm
systems in general are designed to provide convenience to people in the home by setting off some sort of reminder or take an automated action whenever necessary.
Some of the alarms can be very sophisticated and backed up with a patent like the WaterWatch alarm which can be very handy in the basement that has a sump pump system.
How it Works
The WaterWatch alarm is patented simply because of the efficient way it stays automated. First it sounds off the same way a smoke detector does whenever there is an event where the water is rising to a certain point. This alarm knows exactly when the alarm needs to be triggered and when the sump pump should be turned on. It serves as an early warning sign for dealing with any pump failures before the water can do any significant damage to the basement.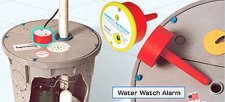 The alarm itself rests through the cover of the sump pump deep in the sump pump basin. There is a water-sensitive tip located at the end of the probe which acts as a trigger whenever there is a presence of water contacting it. This explains why the alarm is very efficient in preventing the basement from being flooded at all during unexpected instances where there is a pump failure.
Importance
Judging from the main functions of this special alarm, it is a must for every sump pump to have an alarm. It just doesn't make sense at all to not have one because the flood damage can be very costly and it can occur without any warning. This can occur immediately after the circuit trips or if the pump cord is unexpectedly unplugged. It is helpful to have this alarm especially when investments are made on the basement waterproofing system. It also helps protect against the costs of having the basement remodeled thanks to the sump pump alarm.
Guide to Getting One
Having the benefits of this sump pump alarm system is as easy as choosing from any of the sump pumps available by Basement Systems. All of the sump pump products offered by Basement Systems including the TripleSafe,
Battery Backup, SuperSump, and SmartSump all have the patented. Every product has its own patents of their own like the TripleSafe system which makes use of three pumps to solve more problems that other waterproofing systems cannot achieve. There is also the SuperSump system which has a patented airtight cover to keep odor, bugs, and pests out while running quietly and having the same sump pump alarm. Finally the SmartSump is uniquely designed for the WaterWatch alarm to work at its best being very responsive when plumbing leaks occur as soon as the alarm pocket found on the lid is filled. These alarms are designed to save money since it eliminates all of the unnecessary costs with repair and maintenance making them vital for any basement that utilizes a sump pump system.
---
From Sump Pump Alarm to Home Alarm Systems

Back to Home Alarms to Alert You