Types of Home Smoke Alarms
There are several different types of home smoke alarms available for residential and commercial use.
This type of alarm is specially designed to sense the particles that are produced when one type of combustion or another occurs in a given area. The particles that the alarm detects may be visible to the naked eye or invisible. Once the particles have been detected by the alarm system, it is designed to emit a sound that is distinguishable to those within the range of the sound.
In some instances, a light may be activated that flashes or blinks on and off. These alarms are considered to be the front line of defense when it comes to protecting human life and even property. Typically powered by batteries or electricity, these devices save a large number of lives annually.
Optical
The
first type of alarm
that is used to detect the presence of combustible materials is referred to as the "Optical" unit. This is a light sensing device that implements the use of a beam of light produced by either a LED that is infrared based or incandescent in nature. In addition to this, a special sensor is configured into the alarm. Once smoke or other particles are detected, the alarm is immediately triggered.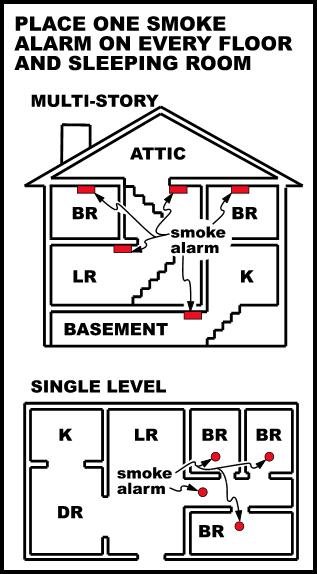 These alarm types are quite effective in commercial and community settings such as large stores, or an auditorium. Seeing that many alarms that detect smoke are quite sensitive, this alarm is often referred to as the
"Toast Proof Smoke Alarm"
, as it is not as sensitive at all.
Ionization
The
second alarm type
when it comes to
home smoke alarms
is the one that is referred to as "Ionization". This type of alarm is commonly used in homes and is appropriate for those that are seeking inexpensive models. However, there is a downside to purchasing this type of alarm. That is that they are highly sensitive. It is not unusual for them to go off during cooking and other activities that are similar in nature.
Ionization Chamber
Smoke emitted in the area of the alarm enters in to a special area of the alarm called the "Ionization Chamber". In this, there are two small electrodes that maintain a specific current. If smoke enters, it interrupts that current and the alarm is sounded to warn individuals that smoke has been detected.
Air-Sampling
The
third type of home smoke alarms
that can instantly detect particles emitted from some type of combustion is referred to as
"Air-Sampling"
. This is often used in commercial and industrial settings as the alarm implements the use of piping and similar types of products that help take air from one location to the location of the alarm in order to determine if there is an area in a building or other location that contains combustion based particles. Tissue converting plants such as Georgia Pacific and computer server warehouses often implement the use of this
smoke alarm
type. It is important to understand that smoke alarms can effectively
protect property
as well as people. Whether you need one for a residential area, commercial area, or even for an industrial area, it is essential to choose among the available types to determine which model would best serve your needs. Throughout this guide, you have been introduced to the three most common models available on the market today.
SUBMIT YOUR COMMENT!!
Do you have a great story about this? Share it!
What Other Visitors Have Said
Click below to see contributions from other visitors to this page...

humayun Not rated yet
i did not have any idea about fire alarams mechanism! Thnx
---
Home Fire Alarms Tips

From Types of Home Smoke Alarms to Fire Alarms

Back to Home Alarms to Alert You