Choosing a Good Freezer Alarm for your Home and Business
A
freezer alarm
is an inexpensive investment that could save you a lot of money.
Imagine the amount of money you would lose if all of your frozen foods defrosted. It would probably be impossible to eat all of the food. Things like ice cream would become inedible.
It's especially important to have one for freezers that are on attached to a separate breaker. It could be days before you realized that the breaker had tripped or the fuse had blown. Many people keep their freezers in the basement or in other rooms that are rarely visited. Once again, it could be days before anyone notices that the appliance is not working. There are many models and designs to choose from. So, you might want to know how to choose one that's right for you. Here are some things to consider. Some designs work well for top-load separate freezers, but not so well for side-by-side or other refrigerator/freezer combinations. As much as most people use their main refrigerator, any problem would be noticed quickly. But, you might have an extra refrigerator/freezer combo that is not so commonly used. If that's the case, you want to choose one of the
freezer alarms
designed for the combination appliance.
Some alarms
are not designed to work with freezers that have an auto-defrost feature. Some new freezers are frost-free. But, many have cycling temperature changes that can lead to a false alarm. Check how the model works with the different freezers available before you buy. If your appliance is located on another floor of your home, it's a good idea to choose a device with a loud alarm or one that has an adjustable volume. When installed, some homeowners have found that the siren is not audible on other floors of their homes. Background noises like television sets can interfere. Some freezer temperature alarms are prone to be problematic. Be sure that the manufacturer, the store or the website you order from has an easy return policy. It's also a good idea to test it at different temperatures (if possible) before you install it.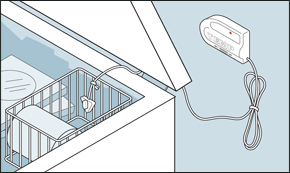 Some models are available with variable temperature settings to accommodate different freezers, as well as auto-defrost cycles. Others have only an on-off switch. Obviously, the models that have more features cost more, but they could be worth the extra money. An alternative to a
freezer alarm
in case you need one, is a power failure alarm. It plugs into the outlet and sounds out if the breaker trips, but it would not let you know if the appliance stopped working for other reasons. The
Freezer alarm
is a small device the size of standard digital clock with a power switch and a small display panel. One of the main uses of a freezer is to keep the water in the ice cube trays frozen so there are spare ice cubes to make some chilled drinks.
It is also the one storage in your home where all of the foods, meats, and other items that need freezing temperatures below the fridge's capability to prevent them from being spoiled. However, some problems can occur in the freezer that can spoil all the perishable items and possibly damage the fridge itself. To prevent such instances from happening, it is best to get a freezer alert.
About
Most of these alarms are equipped with a suction cup so they can be easily attached to the freezer. Some may have a Velcro tab as well for outside surfaces. The display panel primarily displays the temperature of the freezer. The alarm works by making a sound or indicator when the temperature goes above a certain value (usually 15 degree Fahrenheit). Some alarms may monitor the refrigerator temperature as well.
Significance
Without an alarm in the freezer, it is impossible to determine if it is really functioning and freezing the contents at the proper temperatures. Ignoring this fact won't be costly in the short term, but letting the freezer run as is above standard temperatures can spoil all the food taking a huge toll on the expenses. These alarms in general are not very expensive so it is a worthy investment to save big especially since good alarms notify you in all sorts of ways as soon as the temperature rises. This means that you can tell if you didn't close the fridge properly since the temperature rises when the fridge door is left open. It can also help during rare instances where a power outage occurs and you need to check if it is okay for the items to be left inside.
Good Alarms to Get
It is good to get alarms that can be placed on the outside surface for easy installation and reference. If you do not plan on checking the temperatures of the freezer and prefer the alarm features, you can save more money getting an alarm without a screen. These alarms consume less power and solely sound an alarm when the temperature goes above 15 degrees Fahrenheit.
Where to Obtain Them
Because they are small in size, it is best to get freezer alarms in trusted online stores such as Amazon.com. Your local appliance store may have some freezer alarms too.
It doesn't require a heavy investment to get a freezer alarm and since the alarm runs entirely on batteries, there is no worry about power consumption either and you can always turn it off to save some power (though it is best to leave it on always).
If Your Freezer Fails
The first thing NOT to do when your freezer falls is open the door to check on the food! Little, if any, thawing will take place during the first 12 hours . . . provided the temperature within had been set at or near 0°F. An unopened, fully loaded freezer can actually keep food safe for up to two days without electricity . . . while a partially loaded chest will be effective for up to one day. (The moral is keep your freezer full, even if you have to use plastic gallon jugs filled with water to take up the empty spaces.) Other rules of thumb: The colder the food at the time of the mishap, the longer and better it'll keep . . . and the larger the freezer capacity, the longer the food will stay frozen.
SUBMIT YOUR COMMENT!!
Do you have a great story about this? Share it!
---
From Freezer Alarm to Home Alarm Systems

Back to Home Alarms-to-Alert-You